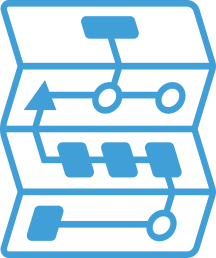 NetworkCommunication optimizes your business by using communication! It might sound simple, but that is what we do. We are here to ensure that you are communicating the right messages, at the right time and to the right target audience – this way we can make them talk, tweet and write about you – as well as to you.
How we do it is different but effective. NetworkCommunication is – and we put it in our name to emphasize it – a company based on networking. This means that we always select the right team for your task. In short, we make sure that the right expertise is put to work for you and your needs.
With a vast professional and global network of specialists, our expertise range across all channels and platforms. Our network consists of more than 500 people with many years of experience – from strategists, experts in SEM/SEO and web designers to copywriters, editors, journalists, art directors – and countless others.
NetworkCommunication has a specialized focus on two industry segments, namely companies related to infrastructure and professional services. We have chosen to specialize in these segments because of our expert knowledge of the markets and the conditions and client demands that companies in these markets face.
Flexible and uncomplicated
Your cooperation with NetworkCommunication can be multifaceted – and you can choose the model that suits your business or company the best. We are happy to solve single tasks for you – gladly in cooperation with your other advisors. We are also more than happy to enter into a Service Level Agreement based on specific tasks at a fixed fee. Many of our clients choose to work with us in times where business is booming – outsourcing their marketing tasks to us for shorter or longer periods of time.
Our work is structured and we use few and simple, result-driven models – the people that are assigned to your task have years of experience and there is always a direct contact between you as a client, and the professionals responsible for the task.
We are based in the center of Copenhagen but our work is global – we work with Danish clients, foreign companies, and companies that want to enter the Danish market.