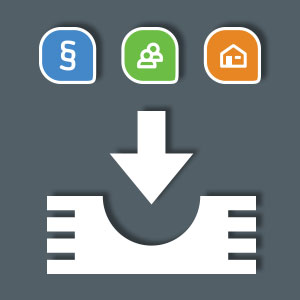 Capto A/S delivers software-based business solutions for law offices and membership organizations – and their newsletter had to generate increased sales and loyalty among their clients.

Client: Capto A/S
Case: Newsletter
NetworkCommunication had developed a new identity and communications platform for Capto. At the same time, Capto chose to outsource their marketing efforts/department to NetworkCommunication – which included developing their monthly newsletters.
Relevant content is what characterizes newsletters that are being opened and read. So we put together an editorial team that met regularly to discuss how new products, software updates and launches, new employees, POV's, cases and seminars were presented best to clients and in the most relevant way.
NetworkCommunication is responsible for developing all editorial content – whether they are based on written briefings, interviews with employees or clients, or on market trends. The articles and stories are uploaded to Capto's website and presented in the newsletters – thereby creating more traffic to Capto's website.
The task
Design a newsletter with content that makes Capto capable of increasing and expanding its communication with its clients.
Process
With a base in Capto's new visual identity, NetworkCommunication designed a newsletter as a natural extension of the identity.
Result
Capto was given a more direct and frequent channel for communication with their clients. The rates for clicks and opens lie well above the industry average, and the newsletter has greatly improved the communication of software updates, product launches, events and market trends.
About Capto A/S
Capto is the foundation for business at law firms and membership organisations.
Captos software solutions create the very foundation for their client's everyday work – handling of numerous different tasks and cases. Solutions are developed based on Microsoft Dynamics NAV and other Microsoft-technologies and are adapted to the client's needs.
What we did
Newsletter design
Handling permissions
Editorial content
Layout and launches
Analysis of effect