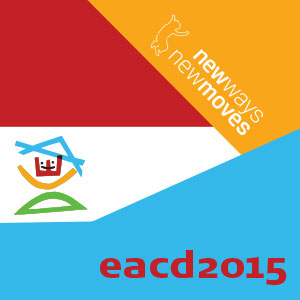 When the European Academy of Childhood Disability – EACD – held its annual conference in Copenhagen, NetworkCommunication managed the communication efforts.
Case: EACD-conference 2015.
Client: European Academy of Childhood Disability and HEC
The EACD is an academic association of scientists and doctors, who work with children with disabilities and poor motor skills. It was Copenhagen University, and professor Jens Bo Nielsen from the Department of Nutrition, Exercise and Sports that led the efforts to host the annual conference in Copenhagen.
The EACD collaborated with NetworkCommunication on attracting exhibitors, sponsors and conference attendees to the conference.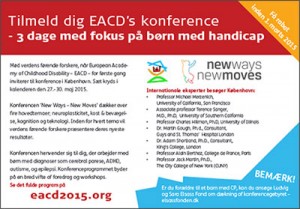 From advertising to PR for EACD
Through advertising and articles with professionally relevant content, doctors, physio- and occupational therapists were made aware of the conference. We also advertised in magazines that focused on diagnoses such as cerebral palsy, epilepsy, ADHD and autism to advertise the conference to parents of disabled children.
We developed packages for sponsors that were sent to relevant businesses and foundations and we used social media, newsletters and PR to expose the conference to as many professionals and parents as possible.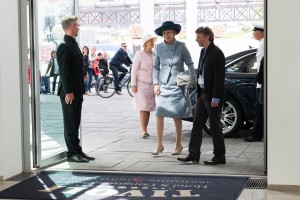 The EACD-conference was held on 27-30th of May 2015 with 600 participants from around the world. Among the participants were politicians, representatives from the Danish health system as well as scientists, therapists and parents. The theme for the 2015 conference was New Ways – New Moves, and for three whole days, all participants took part in a conference that focused on neuroplasticity, diet & movement, cognition and new technologies.
The task
To promote the EACD-conference in Copenhagen and ensure that the requisite number of participants and sponsors was recruited.
Process
NetworkCommunication developed communication based on the theme of the conference and planned its execution meticulously to match the different target audiences.
Result
The conference was deemed an exceptional success, and held high professional value. The number of attendees was more than satisfactory and analysis showed that the conference had been gratifying for those who attended.
Invalid Displayed Gallery
What we did
Newsletters
Print and online advertising
PR
Sponsor packages
Social Media
Analysis of effect