Neopost Denmark considered NetworkCommunication their in-house marketing department. Therefore, it was natural to designate the development of the concept and design for a range of elements for a large fair (Sign&Print) to NetworkCommunication.
Client: Neopost Danmark A/S
Case: Trade fair stand
The Sign&Print-fair is an annually occurring event for Neopost Denmark, but this time they wanted to distinguish themselves with a new and different concept to ensure maximal distinction from the other exhibitors.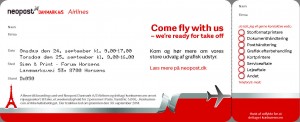 We developed a travel concept where all customers were invited along. As an alternative to the traditional invitation for the fair, each client and interested party received their own personal boarding card with all the relevant 'travel information'. The stand at the fair was designed for the occasion, equipped with everything from landing strip, to counters and stewardesses.
Throughout the fair, Neopost Denmark was in contact with existing clients but also a large number of new potential clients. A contest to win a gift certificate for travel generated a lot of new leads for the company.
To travel is to live', Hans Christian Andersen wrote – and Neopost Denmark agrees.
Process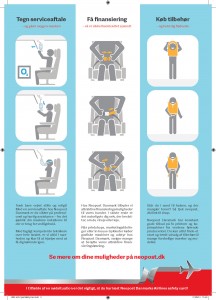 In close cooperation with the marketing coordinator at Neopost Denmark, NetworkCommunication developed and executed all the material for the fair.
Result
Neopost Denmark had a great fair with lots of attendees, positive attention and many serious leads, ready to take home.
About Neopost Danmark A/S
Neopost Denmark Neopost Denmark is part of the Neopost Group, leading in Europe on professional mailing and digital solutions. Neopost Group is represented in 29 countries and its products are sold in more than 90 countries around the world. Neopost Denmark sells advanced and tailor-made solutions for document, logistics and printing technology.
Invalid Displayed Gallery
What we did
Idea and concept
Design of fair stand
Competition elements
Invitations
Flyers